Experience Okinawa
Okinawa's best tour company for foreign visitors. We specialize in self directed and custom Okinawa tour itineraries.
We have decades of experience in Okinawa and can organize experiences no one else can give you in Okinawa. Choose from our range or pre-arranged experience to buy online or contact us for a custom itinerary with everything you need from guides to tickets to transport.
We have over 15 years of experience in providing high-quality, unforgettable experiences to visitors and residents of Okinawa. Our team of expert guides are fluent in both languages and are passionate about sharing the beauty and culture of Okinawa with visitors from all over the world. Whether you're looking to explore historic sites, relax on beautiful beaches, or try delicious local cuisine, we have an Okinawa tour that will suit your needs and exceed your expectations. Trust us to make your visit to Okinawa an unforgettable one.
Not Your Ordinary Okinawa Tour…
Plan Your Perfect Trip With Us
Embark on the journey of a lifetime with us as we meticulously design your perfect getaway, tailored to your unique desires and preferences. Our expert team of travel enthusiasts is committed to crafting a personalized and unforgettable adventure that will leave you with cherished memories for years to come. From stunning destinations and handpicked accommodations to immersive experiences and seamless logistics, we've got every aspect of your dream vacation covered. Join us, and let's create the extraordinary together!
No Results Found
The page you requested could not be found. Try refining your search, or use the navigation above to locate the post.
Pre-selected Experiences
Want to DIY? Select from our pre-build selection of experiences.
Guided Experiences
Want someone to show you around. We can do that. In English, Chiense & Japanese.
Custom? No problem. 
Let us plan your dream Okinawa vacation. We have contacts across Okinawa to make your time in Okinawa uniquely amazing. 
Get 10% Off Your Next Experience?
Sign up for our newsletter and get 10% off your first experience or custom itinerary.
"
I recently had the pleasure of going on a tour with Experience.Okinawa, and it was an incredible experience from start to finish. The tour guide was knowledgeable, friendly, and went above and beyond to ensure that everyone in the group had a great time.
The tour itself was well-planned and gave us a great introduction to the culture and history of Okinawa. We got to visit some of the island's most beautiful sights, try delicious local cuisine, and even learn a traditional dance.
What I appreciated most about this tour was how personalized it felt. Our guide took the time to get to know each of us and made sure that everyone's individual interests were accounted for. I would highly recommend Experience.Okinawa to anyone looking for an unforgettable adventure on this beautiful island.
– Sammi Hazelton
"
I recently had the pleasure of booking a custom tour with Experience.Okinawa and it was an absolutely fantastic experience. The team at Experience.Okinawa worked closely with me to create an itinerary that perfectly suited my interests and preferences.
From start to finish, the tour was seamless and everything was taken care of. The tour guide was knowledgeable and friendly, and had a deep understanding of the local culture and history. They were able to take me to some off-the-beaten-path spots that I never would have found on my own.
One of the highlights of the tour was the food. Since I'm a foodie, the team at Experience.Okinawa made sure to include plenty of stops at local eateries where I could try all sorts of delicious and authentic Okinawan dishes.
Overall, I was incredibly impressed with the level of service and attention to detail provided by Experience.Okinawa. I would highly recommend them to anyone looking for a custom tour that perfectly fits their interests and preferences.
– Mikal Roberts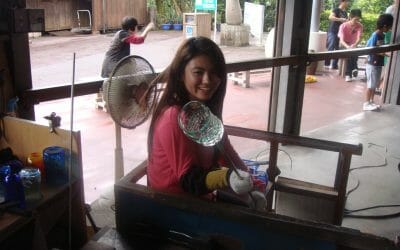 Create your own beautiful glass piece to take home while admiring the stunning Ryukyu glass, a relatively new craft in Okinawa, compared to bingata dying and ceramics. Craftsmen in Okinawa began making colorless glass items for everyday use such as oil vessels and fly...
Okinawa, a tropical island located in the southernmost part of Japan, is a destination that offers a wide range of experiences for tourists. From its unique culture and history to its stunning beaches and delicious cuisine, Okinawa has something to offer everyone who...